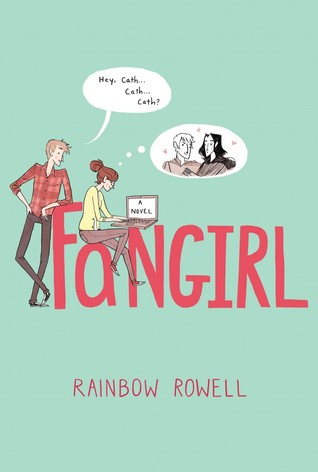 Title: Fangirl
Author: Rainbow Rowell
Genre: Young Adult – Romance/Fiction
Synopsis (from Goodreads):  
Cath is a Simon Snow fan. 
Okay, the whole world is a Simon Snow fan…  
But for Cath, being a fan is her life—and she's really good at it. She and her twin sister, Wren, ensconced themselves in the Simon Snow series when they were just kids; it's what got them through their mother leaving.

Reading. Rereading. Hanging out in Simon Snow forums, writing Simon Snow fan fiction, dressing up like the characters for every movie premiere.  
Cath's sister has mostly grown away from fandom, but Cath can't let go. She doesn't want to. 
Now that they're going to college, Wren has told Cath she doesn't want to be roommates. Cath is on her own, completely outside of her comfort zone. She's got a surly roommate with a charming, always-around boyfriend, a fiction-writing professor who thinks fan fiction is the end of the civilized world, a handsome classmate who only wants to talk about words… And she can't stop worrying about her dad, who's loving and fragile and has never really been alone.  
For Cath, the question is: Can she do this?  
Can she make it without Wren holding her hand? Is she ready to start living her own life? Writing her own stories?  
And does she even want to move on if it means leaving Simon Snow behind?
My Review:  When I left for my cruise I had loaded up both my iPad and iPhone (by loaded up, I mean predownloaded) with many book options for reading while on vacation.  When I got on the ship, however, I was more concerned about squinting and trying to see the screens – and kids who liked to splash a lot ruining my electronics.  (This didn't stop many people though, as I saw quite a few Kindles throughout the week). The great thing is, Carnival has us covered, and provides a nicely stocked library on board the ship.  On it I found Fangirl by Rainbow Rowell.  This seemed as good of a choice as any because while I have seen Rainbow's books come up over and over again, I hadn't actually read one.  And it seemed like a fun vacation read…plus I love nerdy/fangirlly books.
Reading on a cruise ship is both perfect, and difficult.  I loved relaxing in the sun or on the front or
Hi Michelle!
) which meant that I couldn't be "zoned out" for too long, people were bound to miss me.  That being said, I didn't finish the book.  I came really, really close – but not quite.  So when I got home I forked out the $4.99 to buy the e-book so I could finish FIVE CHAPTERS!  Money well worth it, because who in their right mind can just sit for long when you've only got 5 chapters of a book to read?!
back deck with the book and a cup of coffee and just zoning out.  However, there is so much to do on a cruise, and I was there with not only my husband, but my best friend and her husband (
What I Loved:  Characters always make the book for me.  And I loved Cather and Wren (and the origins of their name! 🙂 )  They were so different, but still had that gravitational pull that you always hear about twins having.  Levi was excellent as well, I loved who he was for Cath – how patient and kind and exactly perfectly what she needed.  I already mentioned that I loved the fangirl stuff – It made me nostalgic for when I was all about Twilight, and everything Twilight related.  I wasn't like Cather or Wren – I didn't read FanFic, but that was mostly because I liked the "canon" and didn't want anything or anyone changing the characters or story-line for me.  However, I can understand the other perspective too…not wanting the world to end.
I found Rainbow Rowell's writing quite entertaining, her characters were witty and fun, and if I'm being quite honest, I was probably half through the book before I realized that it was written in third person and not first – that is how strong Cather's voice is!
Not So Much:
 Okay all you 'fangirls' don't skin me alive on this one, but I didn't really feel like there was much of a climax/resolution in this book.  It all sort of was just a flat story that was entertaining to read.  I can't tell you that Cather was a stronger or better person at the end.  She was always capable, and usually did make the right decisions (eventually), regardless of any insecurities she had.  I can't say that Wren even was a better person at the end – although all things indicate that she was.  I feel like their father might have made progress – but nothing definite.  Their mother, well let's just say I side with Cath on that issue, and I don't know if I could say that part of the book went anywhere either. I guess it could be said that Cath and Wren grew as much as any young adult does at this point of life.  I'm just used to a more pronounced story arc, I suppose.
Rated: PG-13 – Good read for teenagers even though the characters are in college.  Some talk of sex, some cussing.
Rating:  3 Stars – I liked it, very entertaining.