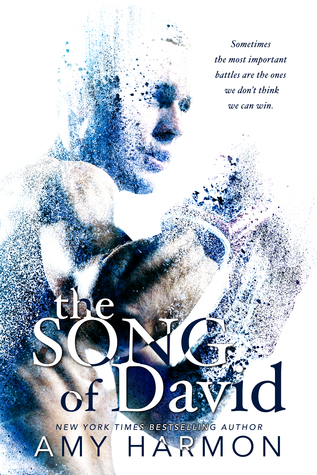 Title: Song of David
Author:
Amy Harmon
Genre:
Adult Romance Fiction – Age-wise this seems like it would be New Adult, but this does NOT fall easily into that category. It especially does not fall into what most people expect out of a New Adult Book.
Synopsis (from Goodreads): This is David 'Tag' Taggert's book, a supporting character introduced in The Law of Moses. This is a stand-alone story, but it is highly recommended that The Law of Moses be read first to avoid spoilers.
She said I was like a song. Her favorite song. A song isn't something you can see. It's something you feel, something you move to, something that disappears after the last note is played.
I won my first fight when I was eleven years old, and I've been throwing punches ever since. Fighting is the purest, truest, most elemental thing there is. Some people describe heaven as a sea of unending white. Where choirs sing and loved ones await. But for me, heaven was something else. It sounded like the bell at the beginning of a round, it tasted like adrenaline, it burned like sweat in my eyes and fire in my belly. It looked like the blur of screaming crowds and an opponent who wanted my blood.
For me, heaven was the octagon.
Until I met Millie, and heaven became something different. I became something different. I knew I loved her when I watched her stand perfectly still in the middle of a crowded room, people swarming, buzzing, slipping around her, her straight dancer's posture unyielding, her chin high, her hands loose at her sides. No one seemed to see her at all, except for the few who squeezed past her, tossing exasperated looks at her unsmiling face. When they realized she wasn't normal, they hurried away. Why was it that no one saw her, yet she was the first thing I saw?
If heaven was the octagon, then she was my angel at the center of it all, the girl with the power to take me down and lift me up again. The girl I wanted to fight for, the girl I wanted to claim. The girl who taught me that sometimes the biggest heroes go unsung and the most important battles are the ones we don't think we can win.
My Review:
Amy Harmon makes it difficult to write a normal review, because I'm afraid if I share any littlest detail from the book I'm bound to give something away. The teasers that were put out for the book were intimate scenes, and yet were probably the safest words to put out to the world in order to entice without giving things away. I had this same trouble with Law of Moses, and I wasn't 100 percent happy with my review because I still felt like I was leaking information from seams I'd prefer to keep shut so that the reader can find out the information themselves. I'm just like that – I hate spoilers, and I hate to spoil, too.
I will say that Song of David is another emotional roller coaster brought to you by Ms Amy Harmon; this seems to be her forte. While the overall feel of the book was bittersweet, woven in the details of Tag and Millie's story is joy, love, laughter, fun, happiness, frustration, confusion, and anger fueled by love. Every single emotion is out there for you to latch on to and experience yourself within the pages of this book as you fall into this dance with Tag and Millie.
What I Loved: David (Tag) and Amelie (Millie). I loved their story front, center and end. I loved Millie's brother, Henry, and his way of communication – sometimes he was the most profound character in the chapter. I loved still "seeing" Moses and Georgia and their baby! I love how Amy chose to tell this story (yet another secret that you must find out on your own). I loved that Tag is both the nice guy, and the bad guy; and yet he's the perfect guy!
Not So Much: I'm not big on ambiguous – I'll say that and leave it alone.
Rated: PG-13 – some cussing, and this book has sensuality, and a black out scene.
Rating: 5 Stars – Stellar writing, Awesome story.