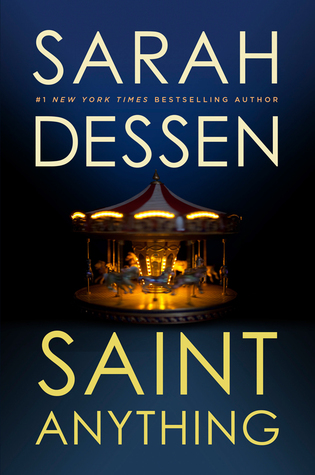 Title:  Saint Anything
Author: Sarah Dessen
Genre: Young Adult – Coming of Age, Romance
Synopsis (from Goodreads):
Peyton, Sydney's charismatic older brother, has always been the star of the family, receiving the lion's share of their parents' attention and—lately—concern. When Peyton's increasingly reckless behavior culminates in an accident, a drunk driving conviction, and a jail sentence, Sydney is cast adrift, searching for her place in the family and the world. When everyone else is so worried about Peyton, is she the only one concerned about the victim of the accident? 
Enter the Chathams, a warm, chaotic family who run a pizza parlor, play bluegrass on weekends, and pitch in to care for their mother, who has multiple sclerosis. Here Sydney experiences unquestioning acceptance. And here she meets Mac, gentle, watchful, and protective, who makes Sydney feel seen, really seen, for the first time. 
The uber-popular Sarah Dessen explores her signature themes of family, self-discovery, and change in her twelfth novel, sure to delight her legions of fans.
My Review:
Going back to read Sarah Dessen is basically me going back to my roots.  When I started reading again, after High School ruined the fun for me and I had to rediscover the joy in reading, Sarah Dessen was one of the first authors I picked up, and then devoured all of her books.  There are a couple of her books that I wouldn't consider my favorites, but they are the exception to the rule.  Whenever I find myself needing a good book that isn't too intense, but whose characters I know I will love forever – Sarah is my go-to.  I love following a long as her characters are usually somewhat broken people who are learning to find themselves.  Beautiful pictures and examples to our young adults, I will always recommend her books when someone is looking for a good read for their teenagers.
Saint Anything is exactly that.  This book dives into the life of Sydney in the middle of the drama, but that drama is all her brother's, and she owns none of it (yet).  Throughout the book you start to love Sydney and can relate to her feelings and her empathy, and root for her on her quest to be not invisible within the walls of her own home.
What I Loved:  The family that took the show: The Chathams.  Their example of a simple family who have their issues, but man they are bonded.  You get the impression that while they don't always get along, they would have each other's backs at the drop of a hat.  The fact that they took Sydney in as one of their own, and just understood and listened to her from the beginning; well that is exactly how I feel like people should behave all the time.  No one is perfect, we all have flaws and hiccups, but we should love people unconditionally, and help them when they ask for it.
Not So Much:  The only part of the entire story that I could even think to include here was the point where Sydney's parents went out of town and left her in charge of her brother's friend Ames.  (Ames is another thing I 'like – not so much,' but I hope that is a normal reaction).  Anyhow, we get half a day of this weekend where you know things are going to weird and creepy, and then the scene jumps to after.  It felt abrupt, and actually made me wonder if there were some things edited out there.
Rated: PG – as stated above, perfect Young Adult books!
Rating: 5 Stars.  I loved the book from beginning to end.
~*Books by Sarah Dessen*~