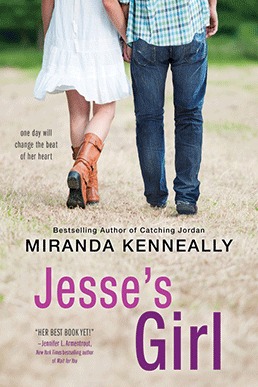 Title:  Jesse's Girl
Author: Miranda Kenneally
Genre: mYA (m = Mature)
**I received this book as an ARC from Netgalley.com. Other than the joy of reading, I received no compensation for this review.**

Synopsis from Goodreads:
Practice Makes Perfect.
Everyone at Hundred Oaks High knows that career mentoring day is a joke. So when Maya Henry said she wanted to be a rock star, she never imagined she'd get to shadow *the* Jesse Scott, Nashville's teen idol. 
But spending the day with Jesse is far from a dream come true. He's as gorgeous as his music, but seeing all that he's accomplished is just a reminder of everything Maya's lost: her trust, her boyfriend, their band, and any chance to play the music she craves. Not to mention that Jesse's pushy and opinionated. He made it on his own, and he thinks Maya's playing back up to other people's dreams. Does she have what it takes to follow her heart—and go solo?
My Review: 
This is one of those books you pick up and just devour, if you have time, in one sitting.
Jesse's Girl
is a perfect summer reads; one that will make you wear the big goofy grin for a good portion of the book.
What I loved: While reading, within the first chapter or two I made a note that I love Maya's relationship with her family. This rang true through the entire book. They weren't perfect, but they were supportive and loving.  They had their quirks, and dysfunctions, yet they are down to earth good people, and I loved them all. I also loved that the dynamic between Jesse and Maya was toe curling-ly cute, but they also helped each other grow as people throughout the book.
More things that I loved…each chapter was a title to a song, that was awesome! In fact, the reason I selected this book on NetGalley was because the title is the name of a song, and I just had to know what it was about. Also, the mention of Ferris Bueller's Day Off….bonus points!
Not so much: I'm not a fan of sex in a Young Adult novel, even if it's not detail by detail, you're left with a good idea of specific actions. I know what is realistic, and what teenagers are like, it's not that. I guess I'm just a prude (or you'll think I am anyway), but I do prefer the old fashioned "wait until you're married" option. But if this is the only thing I can list under this section, that's doing pretty well.
Rated: R – For Sex and Cussing
Rating: 5 Stars – Beautifully written love story with life lessons and laugh-out-loud moments.
~*Books by Miranda Kenneally*~