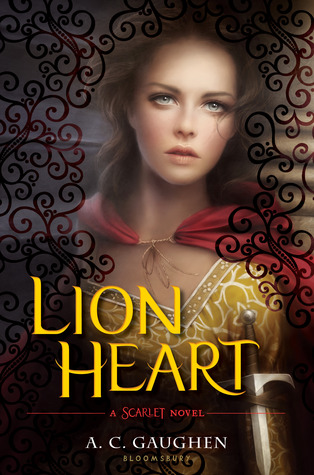 Title
:
Lion Heart: A Scarlet Novel
Author:  A.C. Gaughen
Synopsis from Goodreads:
Scarlet has captured the hearts of readers as well as the heart of Robin Hood, and after ceaseless obstacles and countless threats, readers will finally find out the fate of the Lady Thief.
Imprisoned by Prince John for months, Scarlet finds herself a long way from Nottinghamshire. After a daring escape from the Prince's clutches, she learns that King Richard's life is in jeopardy, and Eleanor of Aquitaine demands a service Scarlet can't refuse: spy for her and help bring Richard home safe. But fate—and her heart—won't allow her to stay away from Nottinghamshire for long, and together, Scarlet and Rob must stop Prince John from going through with his dark plans for England. They can not rest until he's stopped, but will their love be enough to save them once and for all?
My Review:
There is no possible way to express my utter joy and love for this series.  I will be hunting down and collecting these books in hard copy for my personal library for sure!
I probably am a little bias because since a child I have always loved the story of Robin Hood, and outside of Beauty and the Beast, finding re-tellings of Robin Hood is one of my favorite hunts.  This series was just as beautiful and action packed as one could have hoped for, and I will not be able to recommend it enough.
"For the longest time, no one really knew about me.  I were Rob's secret, his informant, his shadow in dark places.  They didn't see me, and I didn't mind that they didn't see."
In this conclusion to the series, Scarlet has changed, she is no longer hiding, but she is fighting for what she believes in; but first she had to realize that when she spoke, people stopped and listened.  Lion Heart was so perfect in its conclusion, with plenty of Rob and Scar moments that made my heart so happy, but the action was not ignored either.  Truly my favorite parts were of Rob and Scarlet though, Robin was written so perfectly with just the right amount of arrogance and humility, and their banter had me laughing out loud at times.  The politics and action keep the story moving forward, and I found myself growing to like and get attached to new characters.  I kind of didn't want this story to end.  While reading, more than once I was afraid of the turn the book was making, but A.C. Gaughen does not disappoint!
I'm trying to think of a part of the book that maybe I wasn't thrilled with; a small point of criticism, but this is me honestly and truly gushing over a book.  I just absolutely loved it.
Rated:
 PG-13, there's cussing, fighting, blood..typical Robin Hood stuff
Genre: Young Adult – Fairy tale retell, Romance, Historical
Rating:
5 Beautiful and wonderful stars.  Can I give it 6?
~* Books by A.C. Gaughen *~