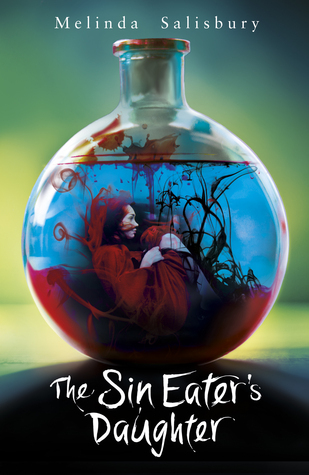 Title: The Sin Eater's Daughter

Author: Melinda Salisbury
Synopsis (from Goodreads):  
I am the perfect weapon.
I kill with a single touch.
Twylla is blessed. The Gods have chosen her to marry a prince, and rule the kingdom. But the favour of the Gods has it's price. A deadly poison infuses her skin. Those who anger the queen must die under Twylla's fatal touch.
Only Lief, an outspoken new guard, can see past Twylla's chilling role to the girls she truly is.
Yet in a court as dangerous and the queen's, some truths should not be told…
http://rcm-na.amazon-adsystem.com/e/cm?t=ilo2re-20&o=1&p=12&l=ur1&category=outdoorssummer&banner=1NBEW07BKXW03YC44102&f=ifr&lc=pf4&linkID=XFQZ33EL65JQJSHW
W-O-W. I just finished listening to The Sin Eater's Daughter, and that is the first word that comes to mind. On average it takes me 2 days to listen to an audio book, and yesterday I was thinking, 'yes I love these characters and the world that Melinda Salisbury has created, but while we're getting a lot of background, world building and learning about the legends and where Twylla comes from and who she is now, there's just not a lot of action.' Today, however, as I was listening there was a bit more drama, a bit more action, and loads and loads of revelation. I'm a lover of fairy tales, I absolutely adore reading new adaptations to old stories and how the authors begin to make an old world new or completely different. I had never heard the story of The Sleeping Prince prior to listening to this book, but I can tell you I'm completely engrossed now. This book (fairy tale) of legends, gods, and betrayal was wonderfully written, and I'm looking forward to the next in the series.
Rated:
 PG-13 – Book has 'fade to black' sex.  No cussing.
Genre:
If I go by my normal standards, I'd have to put this as a New Adult, although it's pegged as Young Adult in stores.
~* Books by Melinda Salisbury *~
//ws-na.amazon-adsystem.com/widgets/q?ServiceVersion=20070822&OneJS=1&Operation=GetAdHtml&MarketPlace=US&source=ac&ref=tf_til&ad_type=product_link&tracking_id=ilo2re-20&marketplace=amazon&region=US&placement=0545810620&asins=0545810620&linkId=JAX55CU7CKW7U4CV&show_border=true&link_opens_in_new_window=true